Often what appear is not what it is while what is, is not apparent. To be able to see, understand and know what is behind the veil of perception one needs to see through the eyes of consciousness. And that's exactly what year 2014 calls for to get a glimpse of the fortune that is in store waiting to unfold. Be it in social, familial or professional lives.  
Year 2014 calls for an expanded consciousness in lives of individuals and institutions. It calls for individual and collective awareness that enables one to see through the deceptive veil of trials and tribulations, openness to learn from these seemingly not-so-fortunate experiences and faith to honour the instincts that point towards the road to fortune. While on the one hand it will require exercising caution and discretion, on the other it will also mean sensing at a very deep levels and responding spontaneously.
Year 2014 warrants a shift in perspective – from outside in to inside out, when looking for directions. Many of those who are sitting comfortably in positions of power may suddenly find themselves fallen, whereas many a green-horse working with intent to ignite the fire within may emerge as conscious leaders. Despite adopting seemingly infallible strategies, meaningless, profiteering and greed-led initiatives will crumble to make space for purposeful, socially relevant conscious entrepreneurship stewarded by these conscious leaders. Both in the individual as well as institutional realms there would be a re-evaluation and re-calibration of authority equations which shall be accompanied by simultaneous acts of destructions and creations.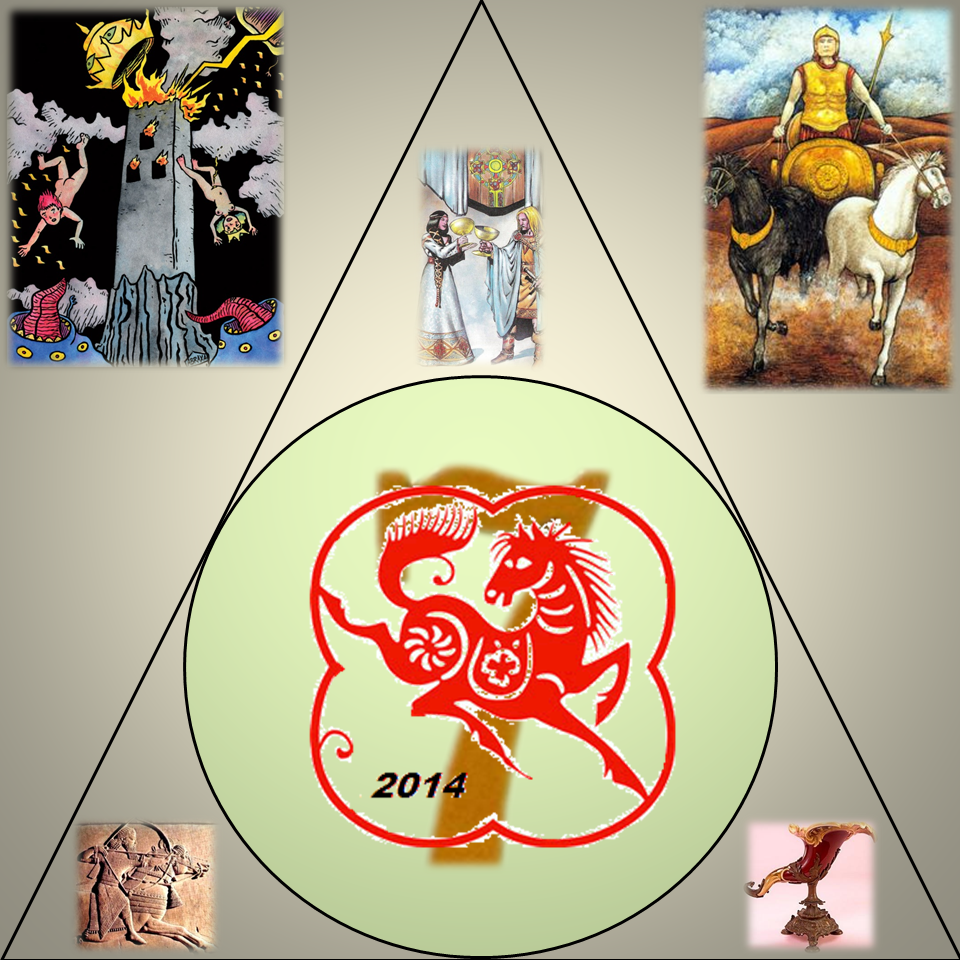 A secret is waiting to be revealed. If one is willing to go within and listen to their heart and instincts, it will show up wondrously. In order to do so, it is advisable to seek guidance from those who already have attained higher levels of consciousness and are available to accompany, with compassion and commitment. What may start as an uphill journey, marred with accidents, disappointments and frustrations, if sustained with conviction and dedication, will lead to bountiful harvests towards the end of the year.
This is a year of relationships, partnerships and alliances. Old / existing collaborations may dissolve to give rise to new more functional and more creative partnerships. These partnerships may also be instrumental in breaking dysfunctional cliques and alliances. On the business front this may be seen as sudden break up in management / founding teams, the defectors re-combining to form new entities and many couples starting up new ventures / enterprises. On the individual front, existing relationships could transform into more co-creating, cooperating and value generating teams, often with inclusion of one or more outsiders. Struggle and tension over new acquaintances turning intimate and starting up of new affairs is not unlikely. Beware of being too protective or possessive about those who are close.
Those who are nurturing purposeful dreams - as individuals and institutions - may now begin to pursue them for fruition and success. Creativity will be rewarded with plenty and so would be patience and inclusivity in business. For those who have already embarked on the process of innovation and created a business around the process, this could be a year of reckoning. If the business is an expression of a higher purpose promising positive impact on stakeholders, it could mean a exponential rise in valuation, whereas for those who are looking for a quick and profitable exit, it could mean a complete wash out.
This is a time to be positive and proactive; otherwise one may experience loss of momentum, delays and stagnation. Completion and success are only a few steps away. Don't give up, lose heart or change direction when you are so close to the finish line. The harvest is here; you are entering an abundant time of happiness and joy. Creative energy is high so if you are considering starting a family, a new job or artistic endeavour this is a favourable time. Relax and enjoy.